Admissions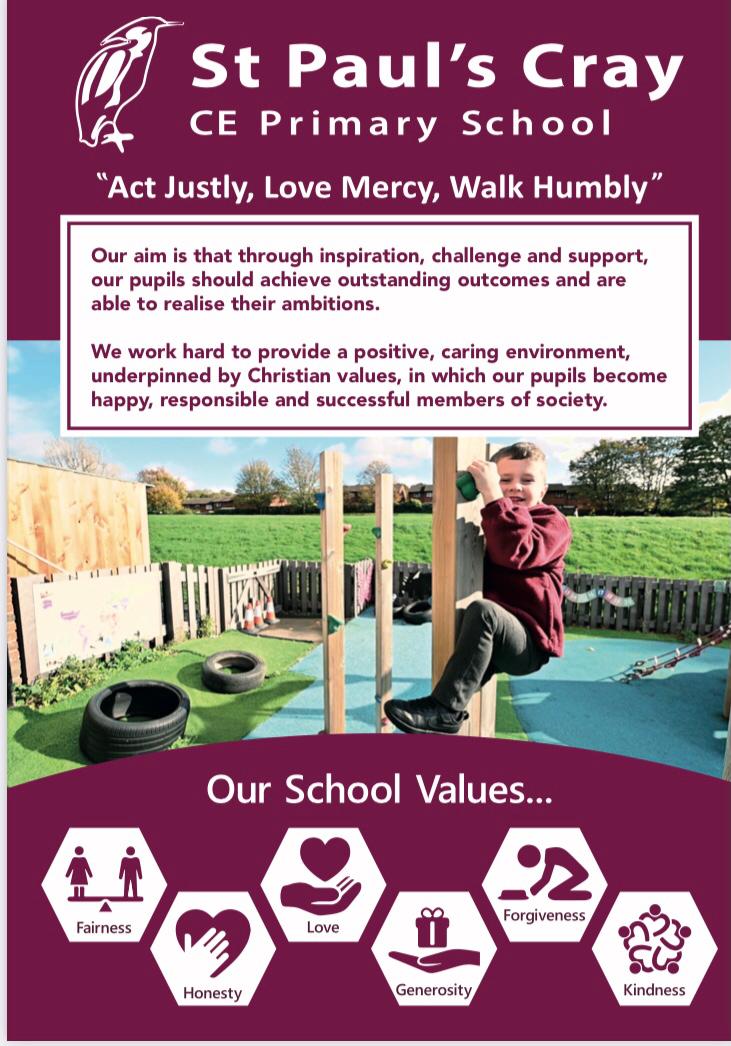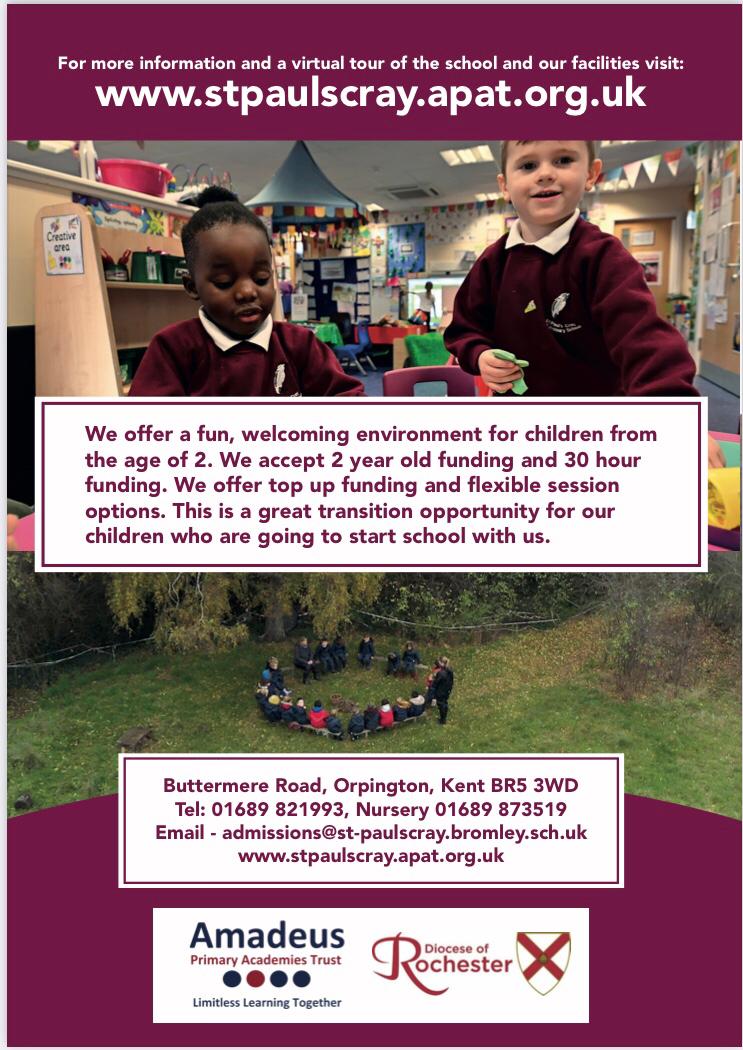 If you would like your child to attend our school, please see our Admission arrangements below.
Reception Intake: For intake into our Reception, you will need to apply via London Borough of Bromley Central School Admissions. Our school admissions policy follows the local authority guidelines. We run various open day events throughout the Autumn term where we welcome you to come and see our school which we are very proud of; please check our website for these dates or contact the School Office. If you cannot make one of these events, we will be happy to arrange a separate viewing of our school for you. Please telephone the school office to make a date and time for this.
In-Year Transfer: If you would like to transfer your child 'in year' to our school then you are welcome to contact the School Office to arrange a viewing of the school; however, London Borough of Bromley Central School Admissions will require you to complete an 'in-year transfer form' before they are able to confirm availability in our school. This form is available for download (below) or a printed copy is available from the School Office.
If you have any queries about the process, please contact our School Office.
London Borough of Bromley Admissions contact website details :
Below you will find our latest Prospectus and Admission Arrangements
Early Years Foundation Stage at St Paul's Cray
At St Paul's Cray CE Primary School, our Early Years consists of 2 Reception classes and a Nursery class all run by qualified teachers and supported by experienced classroom assistants.
All classes have opportunities for independent activities throughout the day as well as directed teaching times and adult focus sessions in small groups. We recognise the importance of outdoor learning and have a Forest School which they take part in throughout the year as well as daily planned outdoor learning activities. Our provision aims to support transition from Nursery to Reception as well as Reception to Year 1.
Admission to Nursery
We take children from the age of 2
We accept 2-year-old funding codes or, alternatively, you may pay for 2 year old sessions which cost £15 per 3 hr session.
To check if you may be entitled to 2 year old funding, please look/apply via https://www.bromley.gov.uk/info/20/help_with_childcare_costs/796/funded_early_education_and_childcare_for_two_year_olds
Please apply to Nursery by completing an admissions form (obtained from the school office or you can download from the bottom of this page). We recommend that you come and look around the Nursery before applying and would love to meet you and your child. Please ring to make an appointment to visit.
The nursery has 26 places in the morning and the same in the afternoon. Children can attend 5 mornings, 5 afternoons or 2 full days and a half day. The sessions run from 8.45-11.45am, 12.10-3.10pm and 8.45am-3.10pm for a full day with £2 to be paid each full day attended for lunch supervision (as this is not included in the 15 hours entitlement). (You may take your child home if you would prefer instead of paying this additional charge, please discuss with us)
When there are spaces available, there is an opportunity for parents to top up their children's hours – each additional 3 hr session for 3-4 year olds will cost £13 with £2 to be paid in addition for each full day attended for lunch supervision.
You will be required to complete a Parent Contract and provide a copy of your child's FULL birth certificate before we can arrange admission.
Admission to Reception Class
Attending the Nursery unfortunately does not guarantee a place in our school. Parents must apply via London Borough of Bromley Central School Admissions for a reception place as our school admissions follow the borough guidelines. We run various open events throughout the Autumn term, please check our website for these dates or contact the School Office. If you are unable to make an open event, we will be happy to arrange a separate viewing of our school for you. We are very proud of our school. https://www.bromley.gov.uk/info/13/primary_school_admissions/72/finding_a_primary_school_place-making_a_school_application
Our Reception classes start at 8.45am and finish at 3.15pm
Uniform
Children may wear jogging bottoms that match the school sweatshirt (to be ordered from Graduates, Orpington). Trainers may be worn in Nursery but school shoes are compulsory once children start in Reception class.
School uniform is optional in the Nursery but book bags are essential.
Reception classes will need to come to school wearing their PE kit on their allocated PE slot days.
On Forest School days – all children will need a named pair of Wellington boots and can wear old clothes to school that day.
What do we do?
We place a huge emphasis on speech and language and are an accredited nursery for our achievements with this. We work closely with a speech therapist in school.
We follow the Early Years Foundation Stage curriculum which includes many outdoor learning opportunities.
We offer cooking activities (we ask for £1 a week to cover costs).
We also run Forest School throughout the year where children learn many skills outside. It is a great opportunity for investigation, developing speech and language and social skills as well as learning about their environment and the seasonal changes that occur. All children in Reception and Nursery will be able to take part in this throughout the year.
How do we involve parents?
We have an open door policy and want to welcome you into our Early Years Foundation stage.
We run home visits for children who are due to start in our nursery – they often feel more settled by seeing staff in their home first before meeting them again in the nursery setting.
We run birthday assemblies as well as class assemblies which parents are invited to.
We have a Stay and Play session in the nursery every Monday from 2-3pm – all children from birth to school age may attend this with their parents/carers. This is a free session where you can play with your child and join a story and music session at the end. It is a great opportunity to settle your child at our Nursery before they start and to meet the staff and other children.
We make regular observational notes and take photographs of your child's progress & achievements and offer opportunities throughout the year for you to come and look at these and talk with the staff.
We have home achievement boards for both classes where we value what your children have been doing at home with you.
We run regular information meetings to support you with your child's education and development.
We welcome parent helpers into all classes.
https://www.bbc.co.uk/tiny-happy-people​ - Tiny Little People
How can you contact us?
We have a telephone number for the Early Years building – 01689 873519
The main school telephone number is 01689 821993 which you can ring for an admissions form to nursery.
FOR NURSERY please complete and return the following form to the School Office APPLICATION FORM FOR NURSERY
FOR RECEPTION please complete and return the following form to the School Office APPLICATION FOR PRIMARY SCHOOL